Legendary rapper Snoop Dogg has launched a new animated persona on Youtube chock-full of educational material for kids.
Legendary rapper Snoop Dogg unveiled a new animated persona on YouTube this week: Bow Wizzle. The tall purple dog with the iconic braids stars on Doggyland – Kids Songs & Nursery Rhymes, Snoop Dogg's new YouTube and YouTube Kids channel. It's produced in collaboration with Claude Brooks, creator of Hip Hop Harry, and singer/songwriter, October London. Check out what all the bark is about below.
The Doggyland channel is currently targeted to toddlers and preschoolers, but will eventually include content for kids of all ages, using rap, dance, and catchy lyrics to help children learn social and cognitive skills. Snoop Dogg voices the main character, Bow Wizzle, who mentors an original cast of colorful pups that each has a different shape to promote a positive social message of diversity and inclusion. Barks-A-Locks is a curious red dog with blue dreadlocks, Yap Yap is a pink, high-spirited poodle, Chow Wow is a big team player, and bright blue Wags is the group's encourager.
Doggyland features classic children's songs such as "Wheels on the Bus" and the remixed version of "Twinkle, Twinkle, Little Star" that Snoop Dogg sings to his own grandchildren. Young fans will also see loads of all-new content that teaches the basics of early education: numbers, letters, colors, and animals. Good habits, hygiene, and sharing are other subjects the channel focuses on.
Doggyland encourages kids to celebrate the differences that make all of us unique, as illustrated in the Everybody's Different episode. Snoop Dogg hopes that parents and kids will enjoy the channel together and provides lyrics on each video so they can sing along. In the middle of Everybody's Different, he raps: "Differences make you unique, the way you look or how you speak, if everybody was all just the same, it'd be so boring, tiresome and lame."
Although few men officially teach elementary school-aged kids, Snoop Dogg embraces diverse opportunities to reach younger generations. According to the press release, Snoop Dogg has a long history of creating positive spaces that benefit kids and teens. In 2005, his Snoop Youth Football League opened opportunities for inner-city children to participate in football and cheerleading. In 2018, he founded Snoop's Special Stars to provide football and cheer activities to kids with special needs.
"As a father, grandfather, and longtime youth football coach, it's always been important to me to build positive and educational environments for all children," said Snoop Dog. "We wanted to bring our show to YouTube and YouTube Kids which provides free access to everyone, so all the kids can enjoy it. I've always wanted to create a kid-friendly series that lets kids be kids and is truly representative of the culture with everything from the music to the characters."
In the press release, Snoop Dogg praised his co-creator, Claude Brooks, referring to him as the one who created the blueprint for making diverse kids' programming when he launched the Hip Hop Harry franchise. Snoop Dogg also called fellow collaborator October London "a talented singer and writer" and described her voice of the character Wags as "smooth as Usher." In addition to the YouTube series, the Doggyland – Kids Songs & Nursery Rhymes album can be found on all streaming platforms. New episodes are scheduled to drop every week on Tuesday.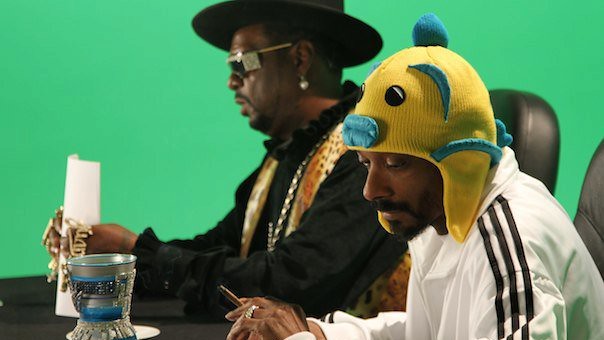 Snoop Dogg doesn't want kids to be hungry while they sing and dance with Bow Wizzle. He recently unveiled plans for a new breakfast cereal, Snoop Loopz. This colorful, gluten-free cereal resembles Froot Loops topped with white marshmallows. A portion of the proceeds from each box is donated to family-centric charities including Door of Hope, a non-profit providing shelters that allow homeless families to stay together in their own private units.