Chicago schools are short hundreds of school bus drivers, with a situation that looks like it will play out similar to last year.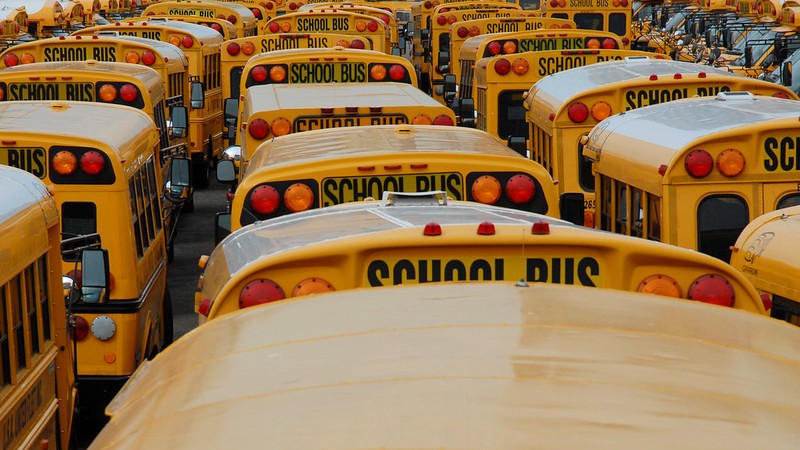 The first day of school is just around the corner for nearly 350,000 Chicago Public School students. But with many of them relying on school bus drivers for transportation to and from school, a driver shortage is leaving families reeling as the start of school quickly approaches. The situation mirrors a similar shortage that tarnished the beginning of school last year. And while the district has plans in place to alleviate stress and worries for families, few parents are confident that these endeavors will work considering the apparent failures from last year.
According to a report from Block Club Chicago, Chicago schools are short at least 400 school bus drivers. The first day of school, Monday, August 22nd, is quickly approaching, and these vacancies mean that thousands of students may be left without a means to get to and from school. On top of that, students that are given a bus ride face having to sit on school buses for extended periods. Some will have over an hour and a half ride times both to and from school.
Knowing that realistically, it will be impossible for the district to hire that many school bus drivers in the next week, the district has put in place measures to prioritize who will be guaranteed seats on the available buses. Special needs students and students registered as homeless come first. Similarly, for routes already filled, magnet schools and those with selective enrollment were told they need to find other means to get to school.
Currently, the district is looking into other methods for helping students and families find transportation amid the issues with finding school bus drivers. The school is again this year offering $500 monthly stipends to some families if they agree to figure out transportation needs on their own without school help. Also, the district is currently looking into an option that would offer students public transit passes to help them get to and from campus.
The school district is also looking into ways to attract more school bus drivers to the area. Officials are working with local bus vendors they use in an attempt to raise the minimum driver pay up to $20 an hour. Given that the average salary in Chicago sits around $75,000 annually, this type of pay still likely won't be enough to truly incentive applicants.
On top of all of these issues, many families have a pessimistic outlook on the school bus drivers' situation, thanks to how it was handled last year. At the beginning of the 2021-2022 school year, around 2,100 public school students had no transportation on the first day of school. This issue persisted for months. It meant that many children missed a ton of school.
What's more, similar stipends were offered last year to families if they found transportation on their own during the school bus drivers shortage. However, many parents reported that the school lagged paying them for months. On top of that, others complained that the payouts weren't enough to cover the costs to hire alternate transportation services.
Unfortunately, it looks as if the start of the school year for Chicago Public students will be just as drastic as last year when it comes to getting students to school. This issue is just one of the many reasons the school is seeing families leave in droves for alternative options. However, Chicago is not alone in this struggle, as school bus driver shortages are being reported all across the nation.