Was it a simple case of sending the wrong letter? If we are to believe the Arlington Education Association (AEA) Union president Ingrid Gant, that is exactly what happened when a letter filled with numerous grammatical and typographical errors was sent to the Arlington Public Schools Superintendent Francisco Duran calling for more protections and time off as teachers were expected to head back to work.
The letter has since gone viral after a homeschooling mother Ellen Gallery and her three kids took a green pen to the letter correcting each and every mistake. In the opening sentence alone, the mother and children found eight errors.
Teachers going back to work in the classroom has been a big topic of consternation for many exhausted parents across the country. As COVID numbers continue to rise with the new Omicron variant, many teacher's unions are asking for more protection and time before they enter the classroom after winter break. The teachers at the Arlington Public Schools, for example, are pushing for a number of changes.
Unfortunately, their message may have gotten lost with the ill-fated release of the letter. After Gallery and her children took a shot at the letter, she then took a shot at AEA when she posted on Twitter. Her comment read: "Hey @VEA4Kids, are you going to send out more of these grammar worksheets over break? My kids and I had a great time spotting errors! Did we find them all?"
The first picture is a screenshot of the beginning of the press release. This was before Gallery and her children got ahold of it. The second and third pictures are the result of the green pen corrections.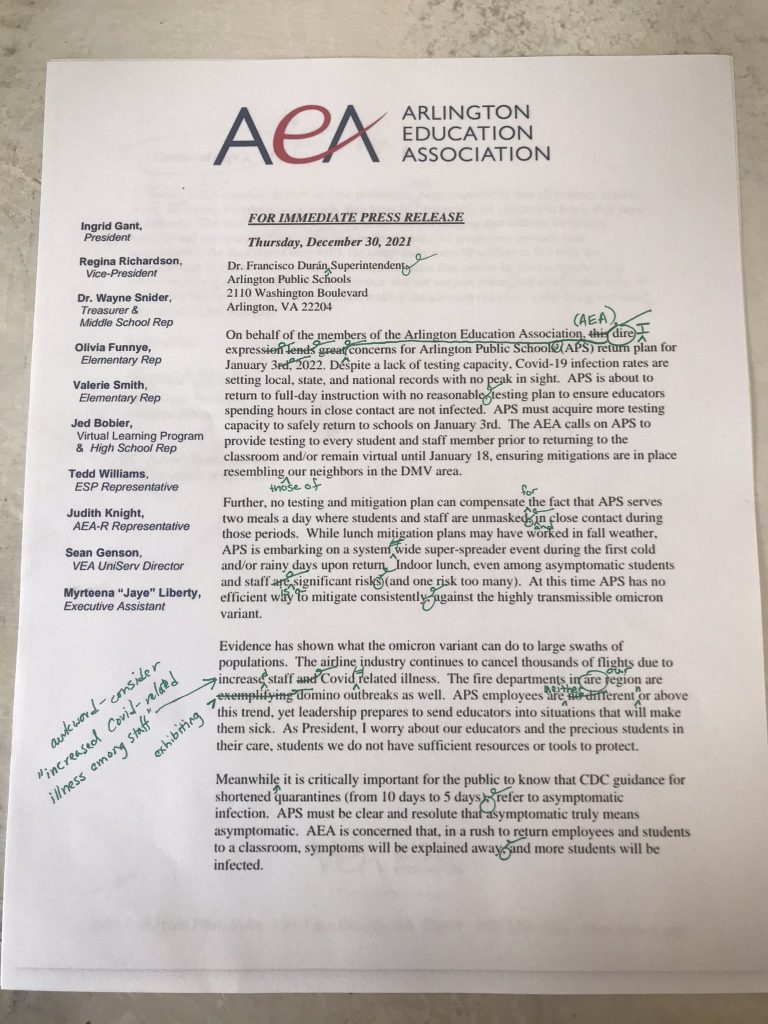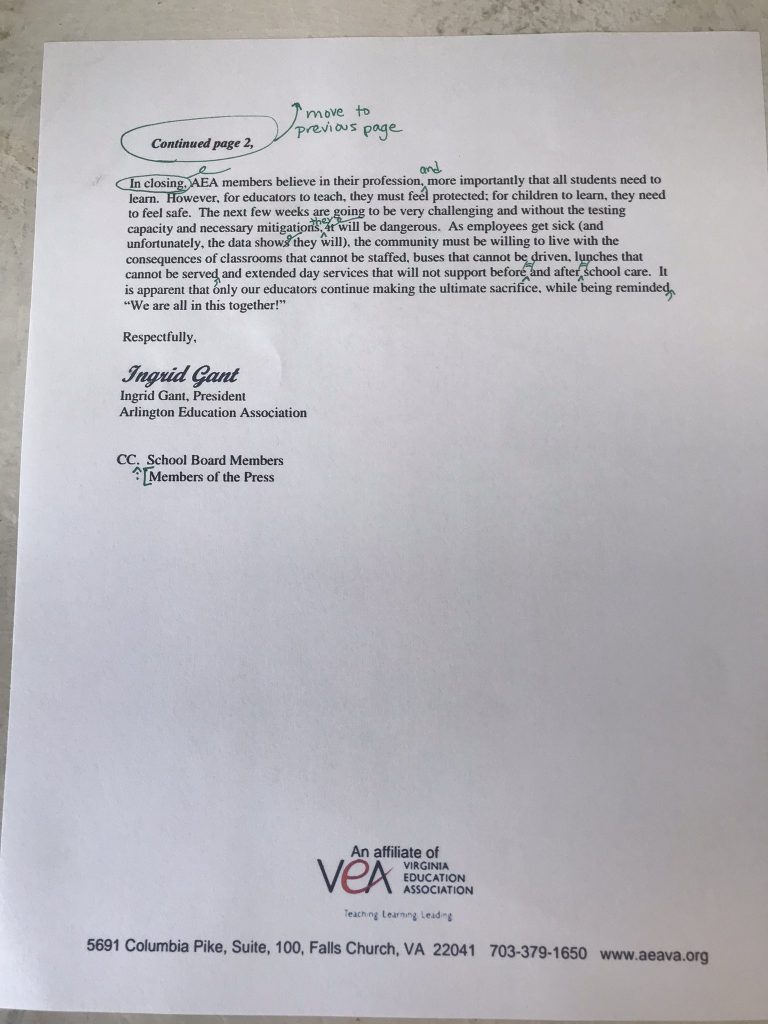 Gant's letter came after Arlington Public Schools announced that although record levels of COVID cases were being seen as the Omicron variant was taking hold, it would continue instruction in school. They did also announce that sports and other activities would stop for the first two weeks of school. Arlington Public Schools were to resume on January 3, 2022, but they have now been delayed until at least January 5, 2022, because of a snowstorm.
In Gant's letter to Duran, she called upon the Arlington Public Schools to require a negative COVID-19 test for all returning students as well as for every teacher and staff member returning to work. This is something that is already being done by nearby D.C. public schools. Gant also asked for a stronger measure of protection against possible transmission of COVID during lunch hours as the AEA feels not enough is being done.
But again, it's apparent the message has been lost. Fox News reached out to Gallery, first asking if she took the photo, then if they could get her permission to use her pictures. Then Tyler O'Neil, an editor at Fox News, asked her to comment on the quality of the letter and the concerns the AEA raised in the letter. Gallery replied in kind with:
"Sure: Being able to write a clear, persuasive letter is a fundamental skill all students should master before high school. The quality of this writing was so glaringly terrible that it distracts from the writer's message. 1/n"
Gallery didn't stop there as she then took to the contents of the letter itself. Gallery commented that she felt the concerns the AEA brought up were ones that should have been discussed months ago and not days before kids were to head back to school. Gallery then pointed out that we, as a country, have known about the Omicron variant for "more than two months."
While there were many on Gallery's side, there were also some who didn't care for her tact in "correcting" the AEA. Some of her detractors put her on the spot. Here are a few comments.
Article continues below headlines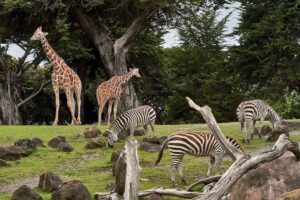 ---
Gallery's grammatical corrections didn't only catch the eye of Twitter followers. It also caught the attention of Corey DeAngelis, the national director of research at the American Federation for Children. He was quick to praise Gallery's response as "epic." DeAngelis broke it down as to what he feels was the true intent of the AEA letter.
"But the bigger issue is that the teacher's union is signaling support for closing schools once again," he said to Fox News. "They want all students and staff tested before reopening schools, but that's not the norm for any other businesses, and the added barrier could have practical issues in terms of logistics and testing supply."
DeAngelis then went on to say just how much ($13,000) Virginia Public Schools spend per student each year. His thought is that this money should "go directly to families so they can find alternatives" to public schools. "Funding students directly would ensure families never have to feel powerless when it comes to their children's education ever again."