New Jersey's Governor Phil Murphy has announced that March 7, 2022, is the day that the school mask mandate will no longer exist for schools and childcare facilities. "Because of the dramatic decline in our COVID numbers, effective Monday, March 7 the statewide school mask mandate will be lifted," said Gov. Murphy via Fox 5 New York. "Additionally, we will lift the statewide mask mandate in all childcare settings."
Since September 2020, New Jersey has been under a school mask mandate. This came after the state's four-month lockdown. One main reason for this new move comes from positive COVID numbers being seen. Neighboring New York State just received their positivity rate results, those are now at 3.5 percent. This is the lowest percentage seen since the Omicron variant took hold and became a national concern.
"In the coming weeks, the Department of Health, under Judy's [Persichilli, New Jersey Department of Health Commissioner] leadership, will be updating its guidance to help school districts make the best decisions as to whether and when masks should be worn," said Murphy. The Governor also called the upcoming end to the school mask mandate "a huge step back to normalcy for our kids."
Gov. Murphy did note that while the school mask mandate will be lifted, he feels that continued masking is a key tool in preventing the spread of COVID. Although he will be lifting the mandate across the state, he will continue to allow schools districts to maintain or enforce their school mask mandate policy as they see fit.
New Jersey is not the only state to be alleviating children of these school mask mandates. The Governors of both New York and Connecticut have also been hinting that they will soon also lift their state school masking policies In Delaware, Governor John Carney has followed New Jersey's lead and announced a masking end date of their own.
"We're in a much better place than we were several weeks ago in the middle of the Omicron surge of Covid-19 cases and hospitalizations," Gov. Carney said via CNN. "I want to be clear about this point — COVID is still circulating in our communities," Carney continued. "And the virus still poses a risk of serious illness, particularly among those who are not up to date on their vaccinations. But we have the tools to keep ourselves and each other safe."
Going into year three of the COVID pandemic, the term "enough is enough" has turned into somewhat of a war cry for parents. Many seem fed up and have been making their voices heard, even in the face of objections from teachers and government sanctioned experts. Eager to get parent votes, some legislators are also fed up and more and more are coming out to help parents.
Vaccination rates are up and the omicron variant, while easier to catch, is not even remotely as lethal as the previous variants. Dr. Carlos del Rio is the executive associate dean of the Emory University School of Medicine, and he feels that the removal of school mask mandates in school districts that have a high level of COVID vaccinations could be a positive. As the cold and flu season, ahem, the COVID and omicron season fluctuates, so will the school mask mandates.  
"As the cases are decreasing right now with Omicron, you know, in a couple of weeks, maybe removing masks is actually the right thing to do," del Rio told CNN. "It allows us the opportunity to actually peel off one of those restrictions that has been so controversial and, you know, things we can do in schools — we can improve ventilation, we can do so many other things that are necessary."
The political shift behind mask mandates is seen as a long time coming for some states. For others, in Republican-led states, school mask mandates were never instituted or they have long since been removed. Virginia's Republican Governor, Glenn Youngkin, was in opposition from the start of his campaign and once he took office, he cranked out an executive order banning masks, making good on his promise. Since that time, though, his order is on hold as lawsuits against his executive order make their way through the Virginia court system.
The CDC continues to recommend that schools stay open for in-person learning but they also recommend that masks should still be worn by all. The Biden Administration has yet to offer a solid plan (or a plan at all) in how states should handle their transition from pandemic-level mandates to a return to normalcy.
Article continues below headlines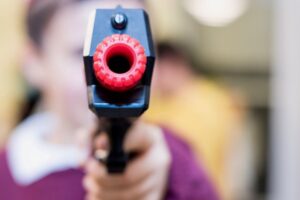 ---