See a teacher's classroom in a viral social media video showcasing her bare-bones room as she returns to teaching disheartened.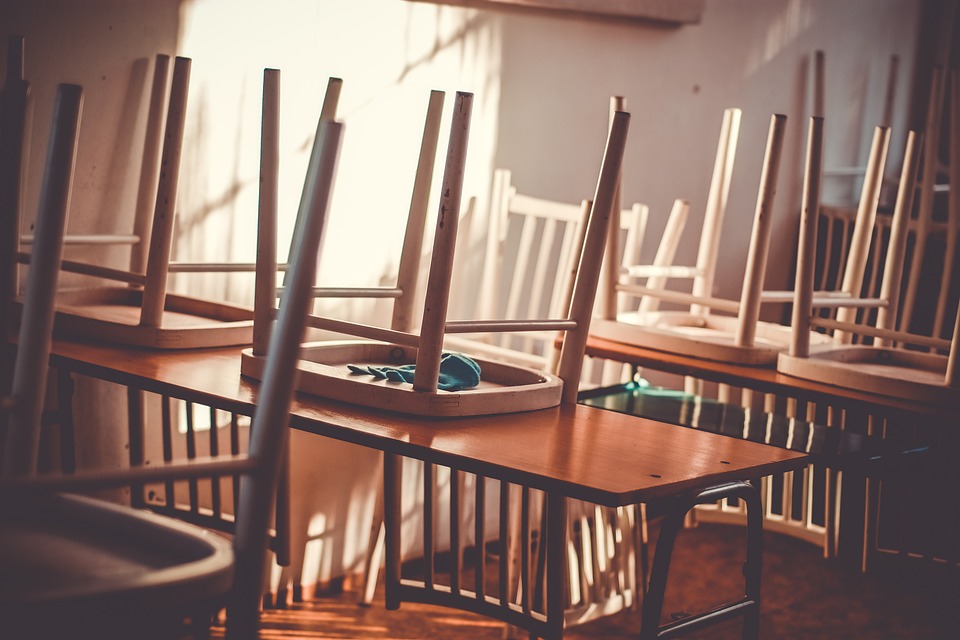 It's a little-known fact outside the education profession: most teachers spend upwards of $500 outfitting their classrooms each year. A Florida kindergarten teacher named Megan, who asked that her last name not be used, was dismayed when she walked into her classroom this summer. The teacher's classroom was completely bare aside from desks, chairs, and an American flag. She left in tears, wondering how she could possibly have the room ready in time for kindergarten camp a week later. See her video below.
Megan did what many educators now do when facing similar circumstances. She made a TikTok video and shared the link to her Amazon teacher's classroom supplies wish list. Megan captioned the video, "So frustrated going into my classroom today. No shelves for a classroom library. The desks are weird for a Kindergarten class. No cabinets. No rug. No leftover supplies or books. How much of my own money am I expected to spend?"
Thousands of people commented on Megan's video, many of them teachers sharing sympathy over the heavy responsibility of self-stocking their own teacher classrooms each year. Teaching continues to be an underpaid profession in the United States, with elementary and secondary school instructors earning an average annual mean wage of just over $67,000. Therefore, there's little room for them to dig into their own pockets for necessary classroom supplies.
The lack of supplies is especially obvious in Title 1 schools like Megan's. These schools have a high percentage of kids from low-income families who may not be able to afford anything on the teacher's classroom supply list. Some states, like Georgia, have used COVID-19 relief dollars to help instructors buy what their classrooms need. Unfortunately, the $125 stipends barely make a dent when even frugal teachers can spend four or more times that amount.
In Megan's case, sharing her teacher's classroom wish list resulted in over 70 percent of the items showing up in time for kindergarten camp. Family, friends, and perfect strangers sent gifts ranging from wall decor to backpack organizers. Megan posted a follow-up video showcasing her colorful, exciting new classroom.
According to a 2022 teacher's classroom spending survey conducted by Savings.com, nearly one in four teachers say they'll spend more than $750 of their own money during the 2022-23 school year. Nearly one in five say they will spend over $1,000 in the same timeframe. Elementary school teachers receive an average of $11 per student from their schools' budgets but spend three times that amount out-of-pocket.
One in four educators reported that their schools failed to provide any money to help stock their teachers' classrooms. This lack of reimbursement is a bigger problem in public schools than in private institutions. The vast majority (92 percent) of public school teachers said they won't be repaid for using their own money while only 73 percent of private school teachers said the same.
Though most teachers' classroom needs fall at the beginning of the school year, there's an ongoing need to replenish supplies, especially in the second semester. Websites like ReallyGoodStuff and DonorsChoose make it easy to browse teachers' wish lists and quickly purchase items online. Concerned citizens can also help at the local level, by calling their neighborhood schools and asking what's needed. With inflation rising, teachers and donors benefit from finding ways to save the most on school supplies.